Trying to decide on a secure file transfer solution that will best accommodate your needs, might prove to be a bit frustrating. There's a vast market out there and it's filled with great options. That being said, you should also bear in mind that these options are not all the same. In this installment of our comparison hub we'll help you decide between SFTP To Go and Sharetru. Both offer secure cloud solutions accessible through the SFTP protocol, and take all the security means imaginable to ensure your stored data is always protected. Sharetru targets and caters to the needs of a very specific audience, while SFTP To Go prides itself on being a lean, flexible, robust, and automation-centered file sharing solution.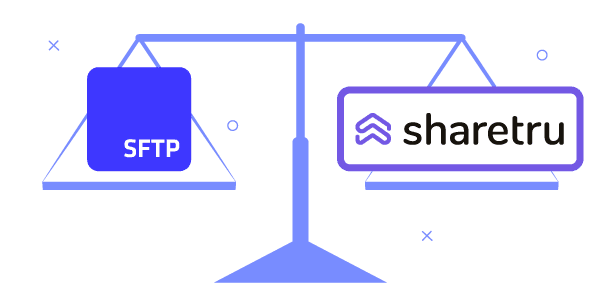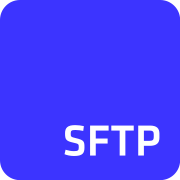 SFTP To Go is a secure data transfer solution. It launched back in 2019 and is now used by over 800 satisfied customers worldwide, among them are some of the world's largest companies. Our customers find SFTP To Go to be the most suited option for their needs, due to its simplicity, tight security, and variety of features and use cases.
Sharetru was launched as FTP Today way back in 2001, making them veterans in the managed cloud storage market. Though their pride and joy, the GOVFTP cloud, was launched in 2018. The offering was rebranded as Sharetru In late 2022.
Simple. Flexible. Lean.
Sharetru are veterans in the field, and definitely deserve credit and due respect. When they started, back in 2001, they had to build their own infrastructure, setting it up with VMWare, CISCO firewalls for security and Zerto for replication.
But times have changed and SFTP To Go is totally up-to-date. SFTP To Go has the privilege of using Amazon Web Services which already come with built-in scalability, durability and robustness. Thus, making SFTP To Go more modern, and consequently leaner and more affordable.
SFTP To Go is built on top of Amazon Web Services and uses Amazon S3 as its storage layer, which is a scalable and reliable, high-speed cloud storage service designed to achieve 99.999999999% durability and continuous availability (99.99% uptime).
SFTP To Go's use of AWS and its choice of Amazon S3 as its storage layer, make it a highly available, durable, and robust file sharing solution.
Soft on limits
SFTP To Go is also a lot more flexible regarding storage and file size limitations. While Sharetru has a hard plan-based limit on storage, and a file size limitation in line with storage limit, SFTP To Go has no file size limitation, and a soft limit on storage space. While our plans do differ in storage space, we'll never take severe action when limits are occasionally exceeded. It's only when it becomes a noticeable trend, that we'll contact you in order to upgrade your plan.
Although Sharetru lets you add additional storage space for an extra fee, it requires you to contact their customer success manager and sort things out. Meanwhile, SFTP To Go allows you to upgrade or downgrade your plan, whenever you please, without contacting and talking to anyone (In case you're not a people person). You just click your new plan into life. (That being said, we're always here for you, and we'd love to hear from you. You can always contact us directly via the in-app chat).
Setup isn't a hassle
This trend of simplicity and zero touch will accompany you from the get go, since SFTP To Go is a super easy setup that requires only one click and you're immediately ready to go - it is 100% self serve, but if you're more comfortable with humans, you can always schedule time with us to go through your requirements and to get an overview of the product.
Although the call to action on Sharetru's  homepage is to schedule a demo, you can also sign up for a free trial. The upper tier plan requires scheduling a demo with one of Sharetru's representatives.
Are you with the government?
Another major difference between us is how specific Sharetru's target market is, as they court government sectors and cater exclusively to US based users and companies. Let us explain.
While most businesses who share information also need to take the most diligent security measures possible, some sectors also require compliance to very strict regulations and security standards. Think of the stringent compliance requirements in government agencies and government defense contractors, or even in aerospace companies. In this line of work, not following up on compliances, could result in large fines, loss of business, and even jail time.
This is where Sharetru's GOVFTP cloud comes in. Sharetru's top tier cloud service is all about checking as many compliance boxes as possible. All of which are irrelevant to most businesses and users. This kind of catering to the needs of a very specific niche comes with a set of burdens, accumulating in a hefty price tag.
SFTP To Go can also take care of your compliance needs. SFTP To Go provides you with HIPAA compliance in our premium plans, and also regularly accommodates customers in need of SOC2 compliance that use SFTP To Go without any worry. Thanks to SFTP To Go's ability to follow the Trust Services Criteria (security, availability, processing integrity, confidentiality, privacy), and top of the line security measures, you'll definitely pass that SOC2 audit.
Why so America-centric?
Sharetru's private cloud infrastructures sit in Texas and Kentucky, while SFTP To Go also has infrastructure in Europe or other AWS regions. This means European companies and users can use SFTP To Go and rest assured that their important data doesn't leave the continent, thus also meeting the GDPR requirements.
The truth is that SFTP To Go actually allows you to choose where your data is stored, be it the US or EU, or even other regions of the world. That's one more advantage of using AWS as a substitute for your own localized infrastructure. It's one more advantage of using SFTP To Go instead of Sharetru.
Three cheers for automation!
As far as automation goes, it's safe to say that your needs and concerns are better addressed with SFTP To Go. While both Sharetru and SFTP To Go allow for notifications that let you know when data in your storage is uploaded, downloaded, or deleted, only SFTP To Go provides you with event-driven webhooks.
In Sharetru, if a file in your storage gets uploaded, you'll automatically get an email notifying you that an action took place in your account. In SFTP To Go, the same event could trigger an automated process using webhooks which allow your app to take action based on file activity in your account.
Webhooks come in very handy for a lot of companies and users. They are means of facilitating communication between online services, a way for apps to connect with one another, thus providing you with a way to integrate your apps using SFTP To Go as a secure data exchange point. You can read this blog post with our customers RECUP, explaining how they use SFTP To Go and webhooks in order to integrate their system with Shell, thus allowing a smooth automated processes of ordering and invoicing.
SFTP To Go also offers a REST API so you can build your custom integrations. It allows you to manage, control, and modify your organization, including credentials, webhooks, inbound network rules, and other objects. Sharetru, on the other hand, provides you with API access only on their top tier plans (starting at $300/monthly).
So if you're looking for a file sharing solution that sees your security interests as a top priority, and can also provide you with the freedom to choose where your data is stored, complete control of your storage, high durability and availability, and automation features, then look no further. SFTP To Go is the right choice for you, and it's one-click setup away.
For your convenience, here's a definitive comparison between SFTP To Go and Sharetru:
SFTP To Go
FTP Today
Set up
One-Click setup, no human interaction required (but we're there for you if you need us!)
Schedule a demo or play hide & seek "Start Trial" button
Multiple user accounts
Based on plan
Pricing is based on number of users (with a minimum), except for the top tier plans which are unlimited
Activity Logs & Notifications & API
Activity logs
Webhooks notifications
Activity logs
Email notifications
Automation
REST APIs
Webhooks
API Access only on top tier plans
File Retention / Purge
supported protocols
SFTP/FTPS/S3/HTTPS
FTP/SFTP/ FTPS/HTTPS
Storage Limit
Soft
Hard
File size limitation
None
Up to storage limit
Bandwidth
Soft limit per plan
No limit
Security - Encryption on transit
✅
✅
Security - Encryption at rest
✅
✅
Security - Inbound network rules
✅
✅
Security - Passwords
Auto generated complex passwords + rotation
Set by user
Security - User level permissions
✅
✅
Security - static IPs
✅
✅
Support
In-app chat
premium support
Schedule Zoom
Designated Customer Success Manager
Accessibility
SFTP/FTPS/S3 GUI, CLI or programming library of choice + web access to management interface
Web client
Storage Durability
11 nines
Optional file versioning and replication across regions
FTP Cloud offers 7 days of offsite backups. GOVFTP Cloud offers 30 days of onsite backups
Storage Availability
SLA: 99.9%
Status page for transparent and clear notifications on incidents
SLA: 99.9%
Pricing
Starts at $25/month
Starts at $120/month
Data Storage Location
Any AWS Region (including EU and US)
US Only